Case Study
Weingut Huber Shop
The Huber Winery in Austria achieves top international marks for its wines every year - we develop the right online shop for it.

The Huber winery is located in the Traisental valley in Lower Austria. This region has long been known for its excellent wine production, but Markus Huber has nevertheless managed to reach the top of his field: his wines are available in over 20 countries worldwide.
We develop and maintain the winery's online shop.
Focus on the essentials
In the Huber Shop, wine comes first. Customers can quickly and easily order their favorite wines from a wide selection of types and vintages.
The design has been deliberately reduced to the essentials in order to enable clear, intuitive operation. Current reviews by renowned trade magazines such as Falstaff, A la Carte or Wine Enthusiast provide additional information about the wine.

A smooth checkout process
Many online shops are unnecessarily complex and difficult to use, especially on mobile devices. A special goal was therefore to keep the checkout process as simple as possible.
Customers can fill their shopping cart with just a few clicks and are guided step-by-step from the first product to the final order confirmation. The reduction of obstacles in this process increases the number of completed orders and improves the usability of the shop.
Stores and Distrubutors
The Huber Winery has customers and distributors all over the world, from small boutiques to large wine importers. An interactive map shows the nearest retailers depending on their location and serves as a central directory of suppliers.
In addition, the shop offers the possibility of creating target group-specific advertising campaigns via Google or Facebook in order to open up new customer segments.

Based of the Shopify Platform, we custom-built the content and functionality exactly to the requirements of the winery in order to optimally handle orders and deliveries.
In cooperation with the responsible employees in the company, an additional distribution channel was created, making the winery more visible in the digital world.

Markus Huber was named "Falstaff Winemaker of the Year" some time ago and continues to produce top-class wines every season.
Other Projects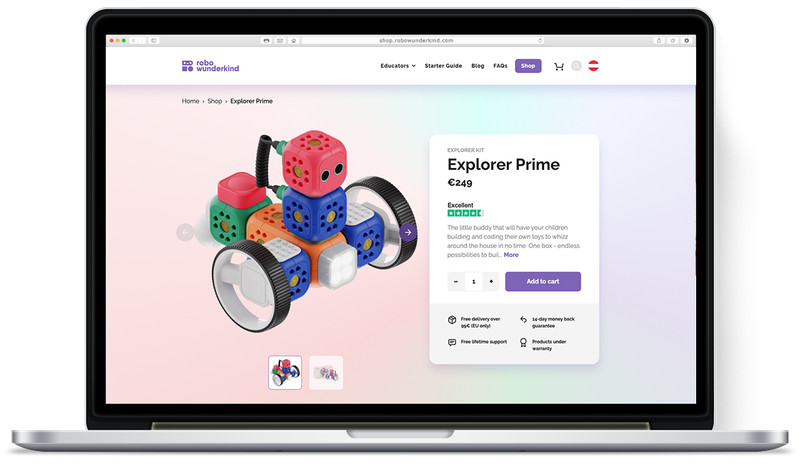 Shopify Online Shop
Robo Wunderkind
Robo Wunderkind develops sophisticated robotics building systems for children, which playfully promote skills in STEM subjects. We were able to support Robo Wunderkind in switching to a custom Shopify store.
see more