Case Study
Story.one
Story.one is a community for real stories. For the entrepreneurs Martin Blank, Hannes Steiner and Matthias Strolz we develop and maintain this unique platform.
Story.one connects people who write real-life stories. Each person has a story to tell and thus becomes a narrator.

Every story should be written down. Nothing is more important for the creative process than a writing tool that moves into the background and leaves room for creativity.
The Story.one editor is like writing on a piece of paper. Uncomplicated, fast and full of freedom.

Life's a big collection of stories, isn't it? So why not pour this great book of life into an actual book? This is also possible on Story.one. Even with an ISBN number, and thus ready for sale in stores.
And for those who need a little incentive: nothing is more exciting than taking part in a writing competition. Prizes are not neglected here either.

What makes a story?
Stories don't just consist of text. There is a lot more to make it easy to find, to evaluate quality and to bring life to a story:
Meta-Informatinoen like: Time and place of plot, emotions, so-called archetypes and catchwords
Activity features like Likes and Views
A follower system to stay up to date with what your favorite authors write.
A completely moderated comment system.
What's going on in the background?
Each platform has a few things that only become apparent at second glance:
Real-time chat
notifications
Presence Detection ("Is the user online right now?")
Administration of stories & drafts
All this for a constantly growing user base.
Geschichtomat 3000
We also never neglect the fun of development. So this time a simple joke turned into a real feature: The Geschichtomat. One click and you are provided with a random story.
The community is constantly evolving and so is the platform. Hardly a month goes by without us refining a process, creating tools for community management or simply enjoying the high-quality content ourselves.
Other Projects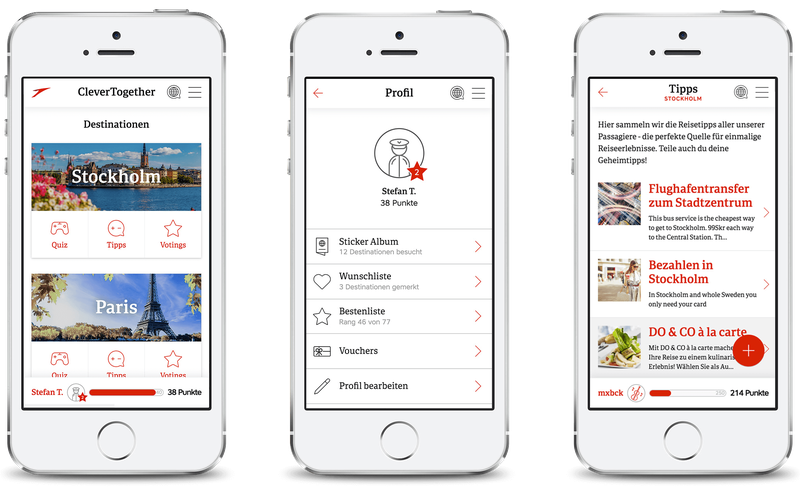 Innovation Project / Gamification
Onboard Community
We developed an online community for the Austrian Airlines / Lufthansa Group that connects passengers during the flight in a playful way.
see more