If you track your time via toggl track track you might want to assess which toggl track client suits your needs best, as there is a desktop, mobile and web application. If you work in a distributed team it is definitely a good idea to start tracking your time. Not only because your clients want to know what they are paying for but also because you know exactly what you are working on and how much time you spend on each task. Therefore, you can also improve your efficiency and productivity. So, if you are new to tracking your time or want to switch to toggl track, keep on reading, because at the end of this blog post you will know which client to choose.
Toggl track desktop app
First, let's take a look at the desktop app. As you can see below, it's a small window which appears if you open the app. You can start your timer, fill in the description and choose a project and your time will be tracked. The toggl track desktop app will also remind you to not forget to track your time if it's "open" which is really convenient. However, a major difference is that you don't have access to the reports. So you can't check your current status or download reports for your projects.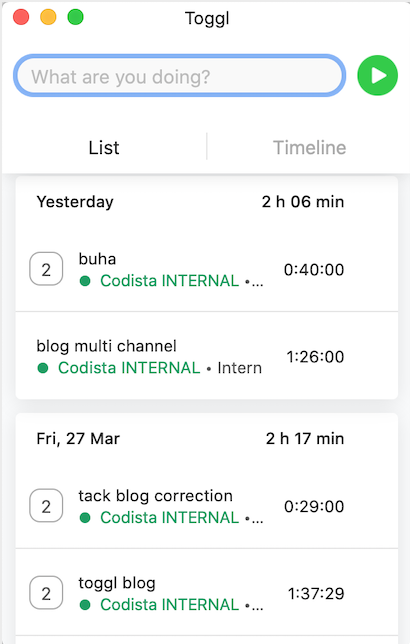 Toggl track mobile app
The mobile app is really similar to the web application, as you have the ability to track your time, look into the reports and even have a look at the calendar view. The mobile app is really practical for people who aren't always at the office but still need to track their time, e.g. if you have meetings outside your company. Another advantage is that you always have the possibility to edit or change a time entry on the go.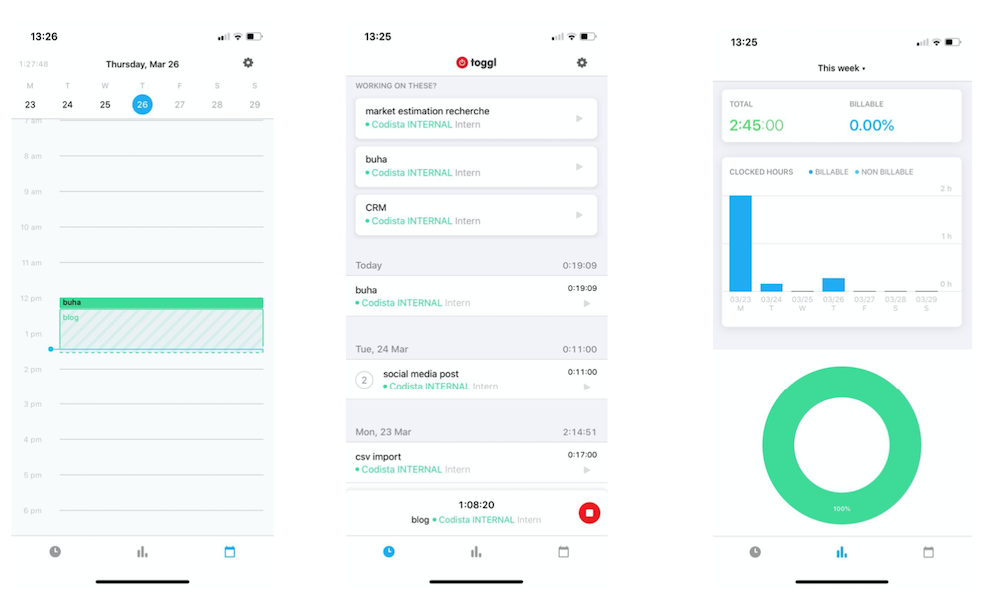 Toggl track web app
I personally only use the web application as it includes all  features of toggl track. I often check how much time I've spent on certain tasks and I have to check if I stick to my working schedule. As I've chosen to have a part-time job while pursuing a bachelor's degree in Project Management and IT, time management is the most important skill which I have to bring to the table. 
I really like having an app to check my working hours. Sometimes I even use the mobile app if I forget to track my time and then remember later on while doing something else. 
Surprise! Another possibility to track your time with toggl track!
I present to you Tack! It's a Slack app we at Codista developed and it syncs your time entries to Slack. Meaning that you can also use toggl track time tracking by only entering a command in Slack and it will automatically start your timer. It's a really great way to work faster and more efficiently. If you start a timer, your status message will automatically update to show your new task, so your colleagues always know what you are working on.
If you are interested in trying out Tack, you can easily add our app to Slack here.