It's been over a month since we officially opened the flood gates to Tack, our helping hand when it comes to knowing where your teammates heads are at. Thanks to a lot of feedback from some of you, Tack has matured quite a bit.
But before we head into what changed, I want to take this opportunity to thank each and everyone of our users. You belong to the elite group of the first 500. The early adopters. The crazy ones lured in by the "beta" tag. Which, by the way, is also gone now. Hurray!
When we started stealthily developing this last November, while keeping the daily agency business growing, we could not imagine that other people would actually find Tack useful as well. We loved it, but would anyone else? Short answer: yep. While it's by no means growing in the hundreds per day, we gain new users each day. Sometimes it's over 10, and yeah, we celebrate this number internally.
How do I get the update?
You don't. Or in other words: you already have it! We already rolled this out in the still of the night, for every Tack user.
What changed?
Before we get into the nitty gritty, here are the highlights:
Project Selection now works with over a thousand projects.
Start, stop, resume and update timers faster by using Slack's brand new Shortcuts.
Long Slack status are not a problem anymore.
Budget Reporting is now it's own window.
Overall, Tack got faster by a bit.
One more thing: if you are having a problem with Tack or it is not working quick enough for you, do not hesitate to tell us. You can do so by sending us a tweet or via regular email. We will take care of your support request right away, except when we are sleeping 😉
Project Selection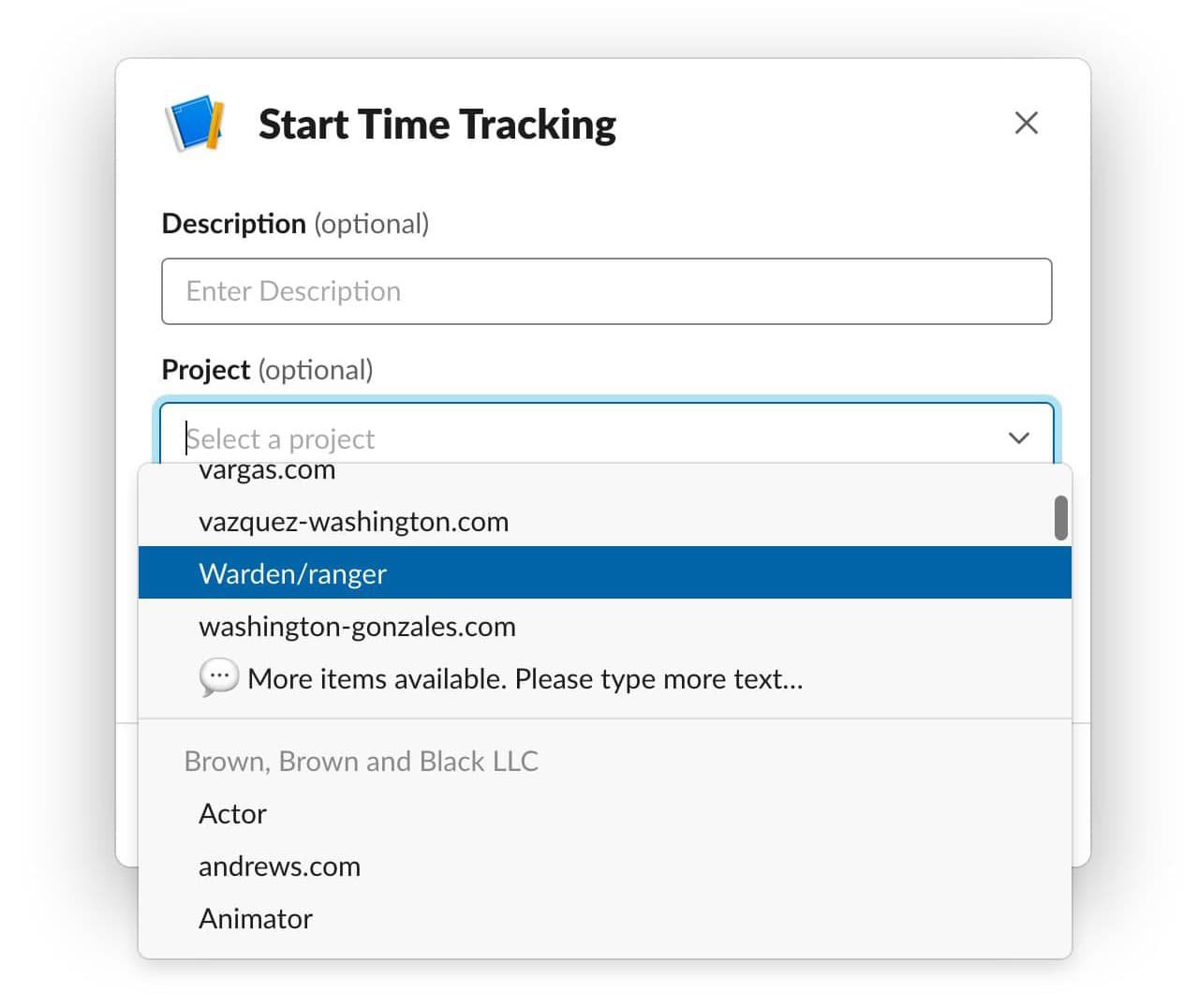 Some of you are working in big companies with hundreds of clients and projects. Up into the thousands. Tack did not work for you, but it does now.
We completely changed the way we process all that sweet data from toggl track. It is now way more efficient. Also, the interface itself changed a bit. If you can't see a project because it's new, you can just hit a button to change that. Notice all the client names? Yeah. Those are new as well. We've been sorely missing them, but now here they are.
Searching for something? Just type away and we will try to find your project, or client, containing the search term you entered.
Shortcuts for convenience
Many of you already have the brand-new Slack Design. With it, they also introduced "Shortcuts" (the little lightning-button ⚡️ on the left of your message writing box). Tack now feels right at home in this part of Slack as well. Check it out:
Now you can control Tack without having to lift your fingers off the mouse.
Making money is now easier than ever
This one is for the pros: if you ever typed /tack start you noticed that we have a "Billable" option, just like any good toggl track client should have. However, in the past it did not behave exactly like you would expect: you always had to explicitly set whether what you are doing is making you money.
We now have the Same As Project option, selected by default, which does what it says: if your project is configured as billable, the timer we start will be as well.
Looooooooong Slack status is long
We are actively tracking what kind of errors happen in Tack. All of this without any personally identifiable data, because we take GDPR seriously. While sometimes it makes tracking down the cause of a bug a bit harder, we think it's worth the sound sleep we can have during the night.
One of our most glaring problems, with over 5.500 occurrences (yup), was that sometimes we wanted to set a Slack status that was way too long. Some of you might not now this, but Slack status actually has a 100 characters limit.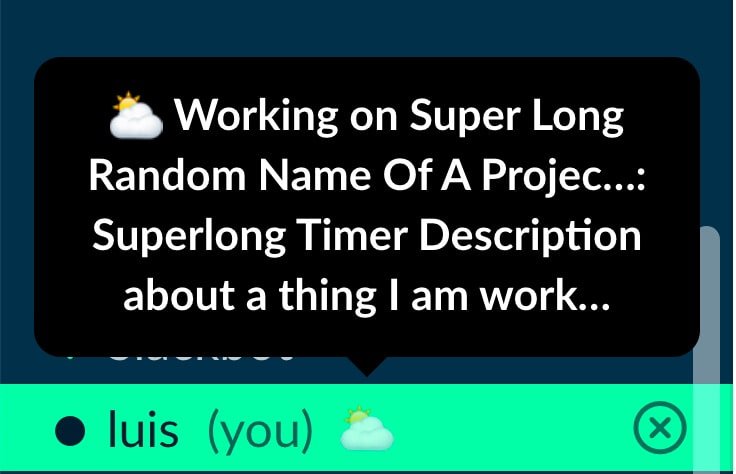 We are now smart about this. While previously we would have simply failed, we now trim down your status until it fits.
Budget Reporting
You always want to keep track of how much time you already spent on projects. We don't want to go over budget without talking to our clients first, right?
That was the idea behind our /tack budget command. Previously, it was this slightly quirky selection flow in the chat… Now, it's a beautiful butterfly waiting to take off.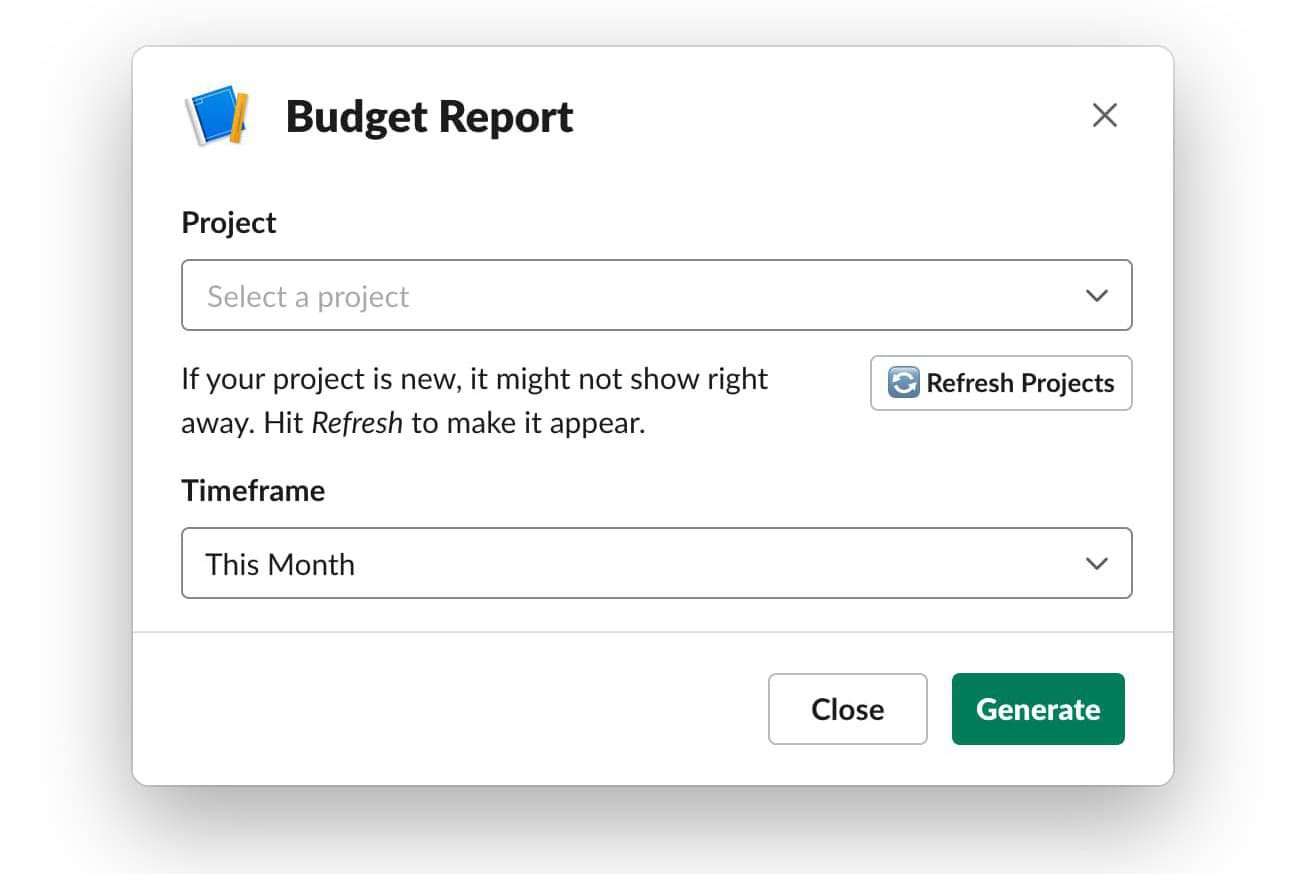 There will be some more features coming to the budget report very soon. Hint: they will have something to do with the word "daily".
Sometimes, it's the small things
That's it for this update! Some of you have been requesting about Tack having to also support toggl track's tasks. Rest assured that we will try to make this happen with the next update!