When you're working in a distributed team, it's often hard to keep track of everything that's going on. Different team members work on different tasks, and switching focus between multiple projects is quite common during the course of a day. Some team members might work remotely, which makes communicating the current task even harder.
We at Codista like to use toggl track for our time tracking. It 's a convenient tool to log all our activities and assign them to specific clients / projects. The desktop app especially is a nice way to quickly create new time entries while working. But it can sometimes be a bit of a black box, as you only ever see your own tasks.
We thought it would be useful to share that information with the rest of the team instead. We also use slack quite extensively, so we came up with the idea to take everyone's toggl track entries and just have them automatically update their slack status message.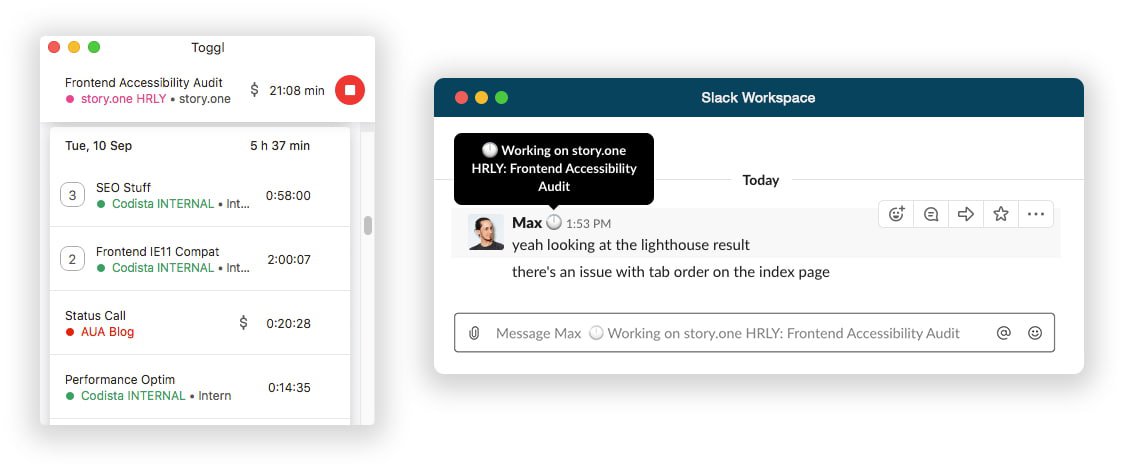 Introducing Tack
We built a small app that connects the individual toggl track and slack accounts of a team member and runs a job every minute to check their current time entry. If it changes, the app will automatically set that entry as a status message via the slack API. We call it Tack (toggl track + slack) for short.
That way, whenever you need to contact someone in your team, you can instantly see what they are currently working on. It might be a related task to yours - or maybe their head is in a completely different place right now, and you don't want to take their focus away.
It's also an easy way to get a "bird's eye view" of what's going on across the entire team: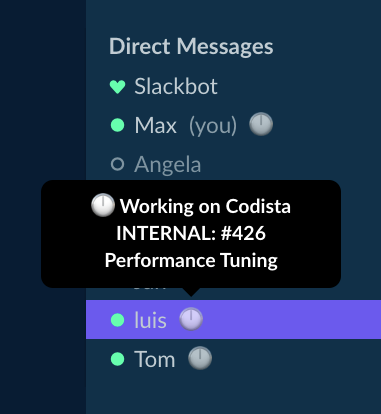 Try it today!
Is this something you or your team would find useful? We'd love to get your feedback on this. Tack is available in the Slack App Directory. Give it a spin and let us know what you think!